The District of Columbia Court of Appeals upheld an $800,000 judgment in a DC sexual harassment case against a lobbying firm on May 31, 2012.  Sasha Stamenkovic ("Stamenkovic"), a Serbian immigrant, alleged that he was sexually harrassed by Campbell-Crane & Associates, Inc.'s ("Campbell-Crane") owner Jeanne M. Campbell ("Campbell"), over the course of his three year employment at the firm.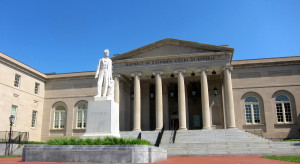 Stamenkovic testified at trial that Campbell, 69, consistently harassed him with sexual propositions and innuendo, swam nude in front of him and other firm employees, made sexually explicit comments to Stamenkovic about her former lover, and commented on her dogs sexual organs.  Campbell-Crane & Associates, Inc. v. Stamenkovic, 09-CV-461, 2012 WL 1946401 (D.C. May 31, 2012).  Furthermore, Stamenkovic contended that Campbell invaded his personal life by insisting that he not be involved with any other women.  After filing suit, Stamenkovic sought psychiatric help from Dr. William Lawson, who diagnosed Stamenkovic with "dispondent disorder" and "post-traumatic stress disorder."    As a result of his treatment at Campbell-Crane, Stemenkovic testified that he experienced "stomach pains, vomiting, shaking, crying, fluctuations in weight, difficulty sleeping, general rage, depression, erectile dysfunction, and shame."   
Stamenkovic filed claims under the DC Human Rights Act based on hostile work environment and retaliation.    After a six day jury trial, Stamenkovic was awarded $800,000 in compensatory damages for the hostile work environment claim and $12,000 for the retaliation claim. 
On appeal, Campbell-Crane argued that the lower court failed to accurately instruct the jury on the definition of a "hostile" work environment.  The Court of Appeals agreed that there was an error in the jury instruction, however, "the jury must have credited Stamenkovic's evidence that he was subjected to egregious and repeated sexual harassment over a long period of time and, based on that evidence, found that Campbell's conduct was not only objectively offensive, but also subjectively offensive to Stamenkovic, thereby creating a "hostile" work environment…. [t]herefore, although the trial court erred in not providing a complete definition of what constitutes a "hostile" work environment, we are satisfied there was no prejudice to appellants."    In other words, the DC Court of Appeals held that, although the Lower Court did err in its instruction to the jury, that error did not prejudice Campbell-Crane. 
Please contact the DC employment lawyers at the law firm of Basyuk & Klaproth if you have been subjected to hostile work environment or sexually harassed in your office.